Visiting Thailand in summer 2017: your guide
Are you thinking of visiting Thailand in June, July or August 2017? Summer is considered the low season for tourism here, but it's still a fantastic time to visit. We've put together some helpful advice for yo if you're visiting Thailand in Summer.Take a look below at some of the important things you need to know before you go.
It's the rainy season
The first thing is to recognise about the summer in Thailand is that it falls across the rainy season, when downpours become common. This puts many people off visiting Thailand in the summer, but it really shouldn't; the rainy season is quite misunderstood.
Yes, it will undoubtedly rain more in the rainy season, but if you are smart about where and when you go you can limit your exposure to heavy rain. Additionally, remember that you shouldn't expect constant rain – downpours are heavy but they generally last for a couple of hours, and often they occur at night, so you may not be bothered by them.
It's cheaper
A key advantage of visiting in the summer is that this is considered the off season for tourism in Thailand. That means that tourist attractions will be less crowded and prices will generally be cheaper. Temperatures throughout the year remain very warm, so a few hours of rain won't mean you have to miss out on the sunshine. If you're willing to deal with the odd bit of rain, it can be significantly cheaper to visit at this time.
Where is best to visit?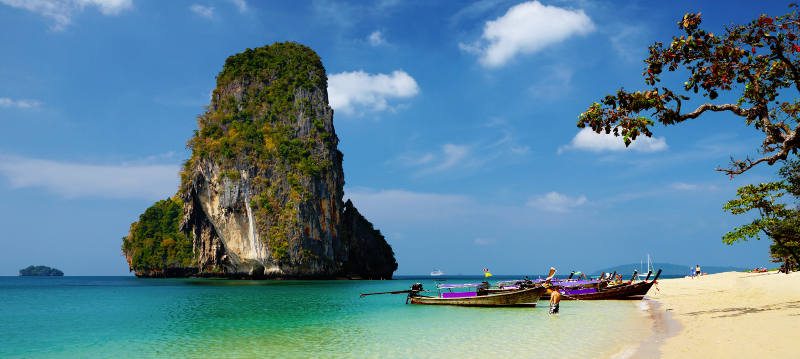 Still, you need to be smart about where you choose to visit. The beach resorts on the west coast such as Phuket, Khao Lak and Krabi will be particularly wet throughout June, July and August, so it's generally best to head further east to destinations like Koh Samui and Koh Phangan. The northern parts of the country are also naturally cooler, so Chaing Mai and Chaing Rai can make good summer destinations. These cultural hotspots also give you plenty of things to do while it rains, although you'll need to be aware that trekking can be hard work.
Events and festivals
A number of the major events and festivals fall over the summer period – it can be worth knowing about them, whether you're interested in attending or just avoiding the crowds. Asahna Bucha Day, which falls on July 8th in 2017, is a Theravada Buddhist festival. On this day many Thai will visit temples and this can lead to a number of tourist sites, shops and markets being closed. In a related event, the Ubon Ratchathani Candle Festival sees a parade to celebrate the start of Buddhist lent. The 19 to 23 July is the Phuket yachting race week, which may see surrounding hotels get quite full.
Health advice
The rainy summer brings mosquitoes in their highest numbers. Typically, malaria is not an issue in the major tourist destinations but if you're visiting anywhere rural or near the border with Cambodia, Laos and Myanmar, you need to be extra careful. Dengue fever is endemic and can be found anywhere. The only fool proof prevention is to avoid bites, so wear long sleeves and trousers and apply repellent liberally. Also, while food hygiene is certainly improving, you should still take all the sensible precautions you normally would. In any case it is recommended that you get vaccinations.
Remember to plan ahead
It should be pointed out that as this is the low season for Thailand tourism, some of the services will be cut back. That means there will be fewer internal flights and boat transport will also see significant reduction. So while in the peak season you can fairly well just turn up on the day and expect to get transport to smaller islands and beaches, summer time travel requires a little more forward planning. Check boat schedules in advance and prepare for cancellations due to bad weather.