COVID and Influenza Vaccinations
After a much-needed break from a stressful year, it's important to remember to keep safe and remain vigilant. As the winter months have begun across the country, the risk of flu and other infections will inevitably continue to rise.
Of course, this is nothing new for the winter period. The cold weather brings a higher rate of infections across all industries and infrastructures. But with such a tumultuous few years behind us, and a greater appreciation of the importance of staying healthy, understanding the benefits of influenza vaccinations is essential.
The winter flu vaccination has perhaps never been more important. And with some people struggling to tell the difference between COVID and common flu symptoms, being prepared means also preparing yourself for a stress-free holiday season for you and your family.
Winter Influenza: What you Need to Know
While standard winter flu has been commonplace for many years, the increased concerns over COVID-19 have caused these winter flu symptoms to inspire a little more panic and concern than usual.
In increasingly worrying and unpredictable times, it's understandable why some common flu symptoms could be misconstrued for early COVID symptoms.
Much like COVID, the common winter flu is an extremely contagious infection that's spread through coughing and sneezing. Caused by the influenza virus, the flu infiltrates the respiratory system, where it's able to spread quickly.
Common Winter Flu Symptoms
In general, the majority of winter flu symptoms for the average person are listed below:
Mild to high fever
Extreme fatigue
Sore throat
A runny nose 
Stomach problems
Headaches
Inability to keep down food
Aches in the body
Persistent cough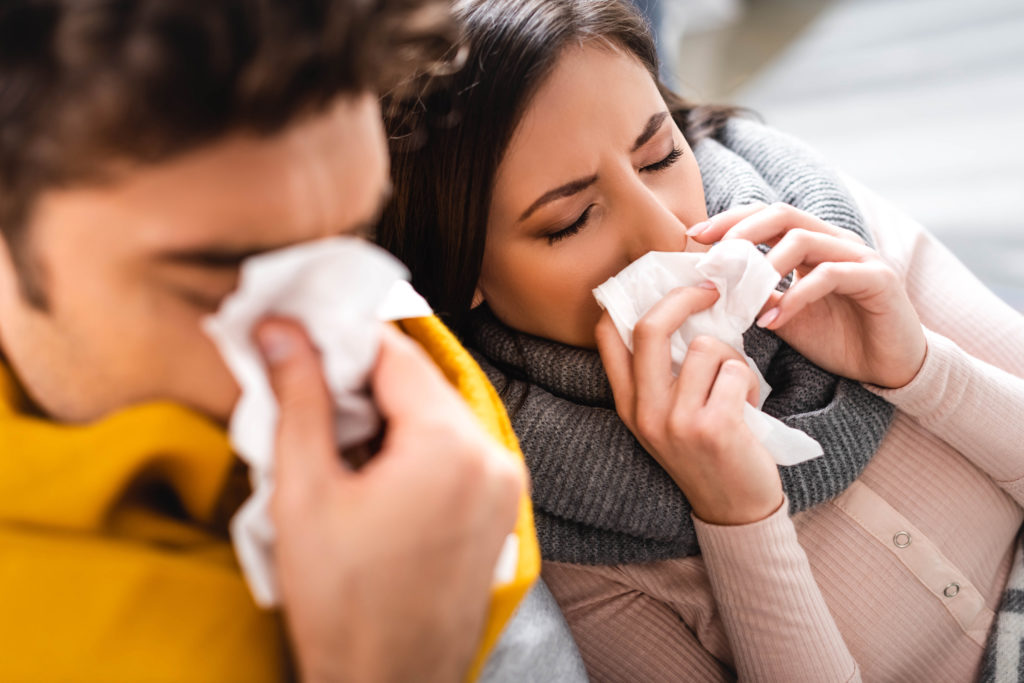 While these symptoms are easily treated with rest and liquids, there are many people with immune systems that aren't capable of dealing with the flu so efficiently. Infants, the elderly and people with respiratory issues can develop some potentially fatal complications like pneumonia.
The Confusion Between COVID and The Flu
Flu symptoms and symptoms of COVID are easily confused. After all, there are many similarities between these two infections. As a matter of fact, the common symptoms of COVID are as follows:
A mild to high fever
A persistent cough
Of course, a loss of smell and taste is a huge indicator of a COVID infection too, but when you put the general symptoms side by side, it's easy to see why there's a considerable amount of panic this winter season.
Tips for Avoiding Winter Influenza
Oddly enough, the best practices for avoiding winter flu are similar to the best practices for avoiding a COVID infection. Therefore, it's generally best to abide by any public health measures that have been put in place to contain the spread of COVID. 
These measures can be as simple and every day as covering your mouth when coughing or sneezing, maintaining social distancing and thorough hand-washing. Wearing a mask is also once again becoming a legal requirement when on public transport.
These tried and tested methods of preventing the spread of respiratory infections are ideal when protecting yourself from winter flu.
If you begin to experience even the mildest of flu symptoms or have concerns that you potentially have COVID, it's essential that you remain indoors and isolate yourself from others. The festive period is an incredibly busy time that inevitably leads to crowds of people mixing and interacting. With so many people travelling, shopping, and socialising, preventing the potential spread is vital.
And of course, the safest and most effective method of preventing influenza infection is through a flu vaccination.
Influenza Vaccinations
Since the lockdown restrictions and mask mandates were implemented, flu infection rates have dropped significantly. But this doesn't mean precautions shouldn't be taken. Influenza vaccinations are pivotal to protect yourself and others from infections this winter season. 
Influenza is a tricky infection – one that has the ability to change and adapt quickly between hosts. This adaptability gives it an incredibly powerful method of mutation, which enables it to defend against things like immunities and influenza vaccinations.
As everyone tends to experience different severities when it comes to flu infections, people will inevitably have different reactions and side effects when receiving their influenza vaccination. Nonetheless, the influenza vaccines help to significantly reduce symptoms in the event of infection and decrease your risk of spreading it further.
Flu Vaccine Side Effects
The flu vaccine is administered in the arm, and any flu vaccine side effects are minimal. In some cases, people who get influenza vaccinations may experience a few side effects, such as:
General muscle aches and pains
A temporary mild rise in temperature
A sore arm at the point where the vaccine was administered
In general, some people may experience a little mild discomfort. However, these minor flu vaccine side effects usually pass within 48 hours of the influenza vaccine being given.
The Flu Vaccine and COVID
Our natural immunisations haven't been at their most optimal over the last few years. As the majority of people have stayed indoors and abided by social distancing guidelines in response to the coronavirus, some of our natural abilities to defend ourselves against the flu have diminished.
By abiding by these much-need public guidelines, we have all helped to prevent further spread and infections of COVID. However, in doing so, that reduced ability to combat the common flu exposes us to more risk of being infected during the winter season.
The flu vaccine helps to bolster the body's defence against this. Considering the potential health issues that a COVID diagnosis while suffering from influenza could cause, it's essential that we not only protect ourselves from flu infection but that we also stay vigilant with regular COVID testing.
COVID Testing During the Winter Period
With holidays and festivities fast approaching, the risk of spikes in flu and COVID infection rates has increased. To maintain progress and help the world return to some form of normality, there are individual steps that we all need to take in order to help prevent further problems.
In the winter months especially, it's important to self-isolate if you suspect you may COVID, even if you're not currently displaying any symptoms.
For total reassurance, ordering a COVID test or visiting and walk-in testing clinic is always best. In the case of being in contact with someone who has COVID, you'll need to self-isolate and order a PCR or lateral flow test.
It's important to remember that even if you've had the COVID vaccine, you're still able to pass it to others, particularly in the winter months when we are more susceptible to getting an infection.
Influenza Vaccinations at The London Vaccination Clinic
The London Vaccination Clinic provides private influenza vaccinations and COVID testing in London. Whether it's an individual test or mass corporate COVID testing for businesses of all sizes, our winter flu vaccination and COVID testing methods will keep you safe. 
As a UKAS and CQC registered medical practice, our professional nurses offer the full range of COVID testing for staff and other corporate testing requirements.
We understand how worrying that winter influenza can be in a post-COVID world. That's why we're providing businesses and individuals with more peace of mind through rapid COVID testing in London and the surrounding areas.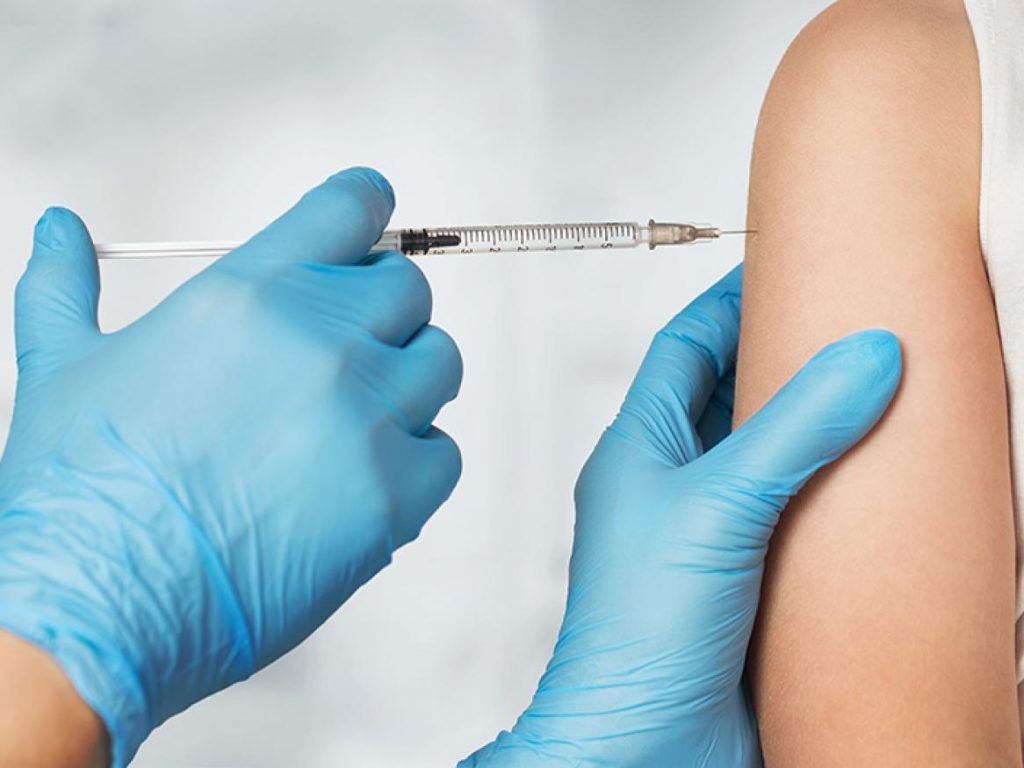 Simple and Straightforward Flu Vaccines with COVID Testing
Do you require quick and comprehensive COVID testing or a vaccine to help combat winter influenza? Our qualified professionals can send COVID tests by post, or visit your place of business to conduct mass corporate testing. We can even come to your place of work or home to administer the flu vaccine!
For COVID testing kits sent by post or a visit to your place of work from a healthcare nurse, contact us today for an open discussion about how The London Vaccination Clinic can support and protect you and your loved ones this winter.
Rated excellent on Trustpilot.
Available to come to your place of business for private COVID testing in London at your place of work.
Same-day COVID test appointments.
Same-day in-clinic results options.
Large group discounts for mass COVID testing.
A choice of in-office, walk-in, and postal COVID tests.
The Influenza Vaccine: Combating Complacency and Protecting Others
Complacency and a lack of preparation for sickness and infection are never good moves at the best of times. In the winter months of a continuing global pandemic, it's downright dangerous. Maintaining your health and protecting your loved ones from infection as we go into a brand new year is essential.
Beginning 2022 safer, healthier, and vaccinated means you've done your part to make this holiday season a little less stressful for families and frontline healthcare workers. Let us make that decision easier by accommodating your needs in any way we can.
Contact us today and let's discuss how we can help to keep you safe this winter.