Staying Safe During The Coronavirus Pandemic.
We are here to help, please complete the form below and our nurses will contact you shortly.
We can provide you with your COVID 19 home testing kit, corona care pack or free advice from our nurses.
The kit tests for COVID 19 plus a number of other similar viral infections. You must adhere to the NHS isolation guidelines regardless of the results.
Note: please go directly to our shop for more information on tests shop@londonvaccinationclinic.co.uk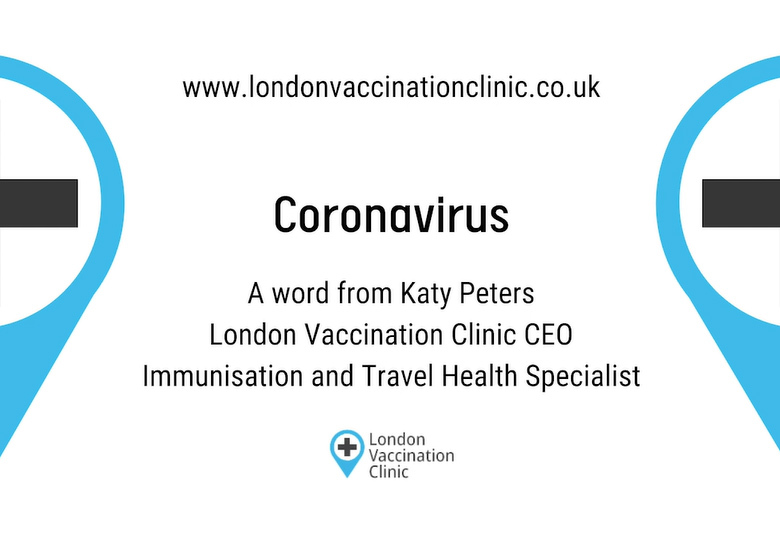 Leave your email and phone number and one of our nurses will get in touch ASAP.
About COVID-19 (Coronavirus)
COVID-19 is a new illness that affects both the lungs and airways. It is caused by a virus called coronavirus.
Symptoms of coronavirus
The symptoms of coronavirus are (Often this does not necessarily mean you have the virus)
a cough
a high temperature
shortness of breath
Symptoms can be similar to the common cold and Influenza. 
How coronavirus is spread?
This is a new illness so; we do not know exactly how coronavirus spreads from person to person.
Similar viruses are spread in cough droplets and infected surfaces
Do I need to avoid public places?
The situation is changing by the hour. For the most up to date information click here.
Prevention Tips
wash your hands with soap and water often – do this for at least 30 seconds
always wash your hands when you get home or into work
use hand sanitiser gel if soap and water are not available
cover your mouth and nose with a tissue or your sleeve (not your hands) when you cough or sneeze
put used tissues in the bin straight away and wash your hands afterwards
try to avoid close contact with people who are unwell
Restrict physical contact
Advice for Travellers – If you have returned to the UK
You may need to get medical advice if you've recently travelled to the UK from somewhere with a higher risk of coronavirus.
These places are:
Cambodia
China
Hong Kong
Iran
Italy – only northern Italy (anywhere north of Pisa, Florence and Rimini)
Japan
Laos
Macau
Malaysia
Myanmar (Burma)
Singapore
South Korea
Taiwan
Tenerife – only the H10 Costa Adeje Palace Hotel
Thailand
Vietnam
If you've been to one of these places in the last 14 days, find out what to do using the NHS 111 online coronavirus service.
Please note this list is subject to change
There is currently no vaccine for coronavirus (COVID-19). The virus is so new and different that it needs its own vaccine. Simple hygiene measures like washing your hands with soap and water often, and avoiding people who are unwell, can help stop viruses like coronavirus spreading.
Coronavirus (COVID-19) is so new and different that it needs its own vaccine. Although the pneumococcal (pneumonia) vaccine is not effective against coronavirus, it is still recommended that you have it if offered to you because it can protect against other illnesses.
There is currently no evidence that you can catch coronavirus from parcels and letters.
No, all testing is managed by Public Health England via the 111 coronavirus helpline. All we can do is advise you of the latest updates and advise on methods of prevention detailed in section above. We are hoping in the future to obtain tests that will tell you if you have had the virus which may prove helpful.
Prior to Departure
Check travel advisories (restrictions) – information on any travel restrictions can be found on the foreign and commonwealth office website. Information on risk areas can also be found on HPS website and PHE website.
Be prepared- Before you travel, seek advice from your healthcare practitioner to ensure that you receive any necessary health advice and vaccinations. Do this well in advance if possible (at least 4 weeks) as courses of vaccines may take time. There is no vaccine available at present to protect against the novel coronavirus disease (COVID-19).
Always ensure you have health insurance cover – Travel insurance is essential and must cover medical evacuation and repatriation if you become unwell and must be transported home. Check the impact this outbreak may have on your travel insurance coverage before you travel.
Consider taking a first aid kit – this should include a small, basic first aid kit, including some means of checking body temperature, either a thermometer or strips to place on the forehead and alcohol-based rub for hand hygiene.
When Travelling
Hand washing. Frequent and careful hand washing is one of the most important ways of preventing the spread of infection. If soap, clean water and towels are not available, alcohol hand rub can be used. Avoid touching your eyes, nose or mouth unless your hands are clean.
There is currently insufficient evidence to support the use of facemasks as a useful preventative measure for the general public
Avoid close contact with people who appear unwell and their personal items.
Avoid contact with animals, poultry (chickens, ducks, geese, pigeons, quail) or wild birds, and the places where they are present, for example, bird/animal markets, commercial or backyard farms. Also avoid contact with sick or dead animals or birds.
Do not eat uncooked or undercooked poultry or meat. All meat and poultry, including eggs must be thoroughly cooked.
If you become unwell with a fever, cough or difficulty with breathing, promptly seek out medical attention. The British Embassy can assist with contacting medical aid and relatives. Postpone any further travel until you are well again.
Do not attempt to bring live animals, poultry or poultry products back into the country.
Remember we can organise a phone consultation, we offer all NHS and travel vaccines, medication, health checks, blood tests and advice.